Storm memories flood Folly Beach on anniversary of 1,000-year flood, Hurricane Matthew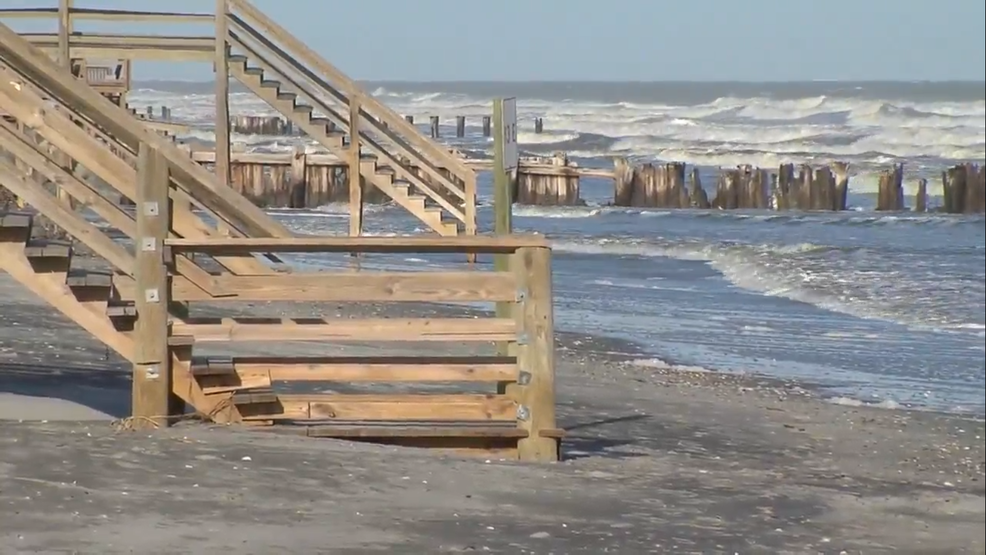 FOLLY BEACH, S.C. (WCIV) —
The first week in October marks the anniversary of both the so-called thousand-year flood and Hurricane Matthew. Hurricane Irma was three weeks shy of becoming the third major storm in two years.
High tide provides a good picture of just how different Folly Beach looks after Irma. The first few steps of beachfront stairs are usually buried under sand, but now, the ocean washes up to the first and second steps. It's why many of the beach access points are still blocked by caution tape.
It took a few tries to find a way to the ocean for first-time visitor Chris Morrison.
"We looked at three different steps and we finally found the one that they just finished, you could tell where they put new boards," Morrison said. So, they're working hard here and that's really good."
Although he doesn't recall what the beach looked like before the storm, he said the signs are there, but some of them are memories to collect.
"Up-rooted palm trees, I was surprised to see that, I've never experienced the beach after a hurricane," Morrison said. "I've been looking for sharks teeth but we haven't seen any of that. All we've seen are some neat little shells and they're actually formed, they're not broken."
The beach may be more broken in, but the same can be said for local favorite Bert's Market. The staff pride themselves on always staying open, with the exception of Hurricane Matthew.
"It was right at the last minute and I think it was when Matthew turned and it looked like it was coming straight in on us and it was a safety issue at that point and we needed to close," said Jeremy Hammond, general manager. "I think Bert's has been the beacon of light for many, many years and that's the expectation and what we want to do as well, so this is where people come to get what they need during times of hardship or if we don't have power."
He said when Irma rolled through, they decided to stay open for business, although the storm surge did give them a bit of a scare. But wild weather and all, Hammond said that's Bert's reputation.
"It was pretty big, there was a few nervous moments when it started to come up to the dunes and then around 12:45 p.m., the waves were pretty large coming underneath the pier," Hammond said.
Folly Mayor Tim Goodwin believes the erosion from Hurricane Irma was worse than Hurricane Matthew. The Army Corps of Engineers recently received $10 million to repair portions of the beach because of Matthew-related damage. On September 15th, Corps crews surveyed the damage.
On Wednesday, a spokesperson with the Corps' Charleston District said the final report will likely not be ready for release until sometime in December.
Unmute